One thing I keep hearing, use your blog to introduce yourself.  Well, after 5 years it's probably time. 
I was born at a very early age.  It happened to be my birthday. 
Every summer we would visit my Grandparents for a few weeks and he had a woodworking shop in his basement.  From an early age I was interested in making things.    
The tools he had didn't have the safety features that are present on todays tools.  He taught me how to safely use the tools and what could/would happen if I did it another way.  
After he died, the tools in his shop went different directions. About this time, changes came.  A full time job and children occupy a lot of time.  But I managed to keep making small items with handtools. 
I studied engineering after highschool and worked in the transportation engineering field.  For 19 years I designed roads and sewers and prepared the contract documents.  First with pen, calculator and paper, then with computers and design programs. Problems would come to light, and we would have to solve them.  Later they were no longer problems, they were challenges.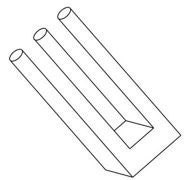 Building something like this isn't a challenge, it's a problem.
After retirement, I desided that it would be interesting to start a business to make small wooden items.  As with all businesses, you have to evolve.    
Stay tuned for the items I have been working on.